Book Reviewed: Project: Killer by J.L. Beck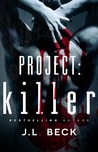 Project: Killer by J.L. Beck

My rating: 5 of 5 stars
I received a copy of this book in exchange for an honest review.
I just love J.L. Beck's books, and Project: Killer, is no exception! This book is mind blowing! It is so intense, that I couldn't sleep until I finished it completely. The ending is a huge cliffhanger, just a forewarning, but HOLY MOLY BATMAN! AWESOME! This is definitely a psychological thriller with an intense love story thrown into the mix too. I was completely spellbound. Again, completely mind blowing.
Maggie, the ultimately girl next door, so sweet and kind. But she is completely headstrong and has the back bone to go with it, especially when it comes to her only love Diesel. Within this story, her memories of him flow through you, so be prepared with tissues. Even with Diesel being gone 7 years, she still dedicates herself to him, including working somewhere that she wished she didn't, but she is determined to find a cure for Diesel's type of cancer.
Killer, a big, burly and completely sexy alpha male, has a problem. He is a monster, a trained killer, hence the name; but he is plagued with these memories of a sweet doe eyed girl, and doesn't know who she was to him or his past. His sanity is crumbling from her presence within his mind. Then he meets a woman that reminds him of this girl from his stolen memories, but who is she to him?! He is determined to find out, or kill until he is purged of these emotions.
This is a whirlwind tale, so intense and so addicting. It will be just misery until I find out what happens with Maggie and Killer!